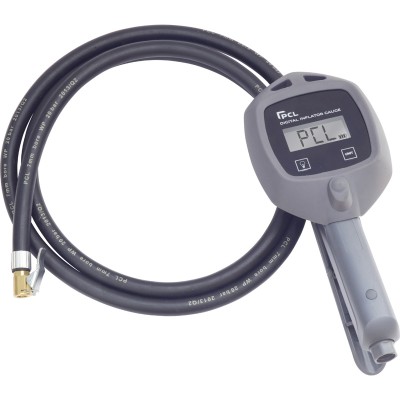 PCL has drawn on its depth of industry knowledge to produce the new DTI Tyre Inflator.
Ideal for workshops in need of a professional tool that won't break the bank.

This highly accurate DTI Tyre Inflator is suitable for all kinds of tyre applications; its ability to inflate up to 170 psi, coupled with its robust construction makes it an ideal addition to the tyreshop tool box.

Simple to use, it features a hand trigger inflate and thumb operated deflate button so that the user can achieve accurate tyre pressures with speed and ease.

For low visibility areas the backlight can be used to further illuminate the LCD display, which incorporates a battery level indicator. The gauge itself features an auto power off function to preserve battery life, which is excellent – 1000 hours use with the backlight off and 40 hours use with it on.

Measurements can be taken with different units of pressure - psi, bar and kpa – and the choice can be selected with the simple push of a button, with the last selection saved.

Each gauge is individually serialised and supplied with a calibration certificate traceable to international standards.

In short the DTI Tyre Inflator makes entry level electronic inflation technology available to all, and is a very useful addition to any professional workshop.
Features & Benefits
Large, clear, easy to read LCD display with backlight
Reliable accuracy (+/- 1 psi up to 60 psi, then 2 psi up to 150 psi) with individual testing and certification
Easy and cost effective to use
Low and simple maintenance
Suitable for all applications including tyreshop environments
Powered by PCL inflation technology and experience
psi, bar kpa units of pressure selectable by button; last selection saved
Long battery life with battery level indicator
Replaceable battery (1 x CR2032)
Backlight
Auto power off
Hand trigger inflate and thumb controlled deflate
Solid and robust construction
Specifications
Pressure Range

5 - 170 psi / 0.34 - 12 bar / 34 - 1200 kPa

Maximum Supply Pressure

218 psi / 15 bar / 1500 kPa

Inflation Flow

910 (1) l/min

Battery Life

1000 hours with backlight off / 40 hours with backlight on

Battery Type

1 x CR2032

Calibration

5-170 psi / 0.34-12 bar / 34-1200 kPa
Latest News